Namaste folks!
Lots of music going on lately! Awesome! Music is awesome 😀
1. Which genres do you prefer/ like the most?
I love lots of different musicgenres! I love ska, rock, punkrock, rockabilly, swing, I really like a capella music and classical (love Paganini). I am also into soundtracks, singer songwriterstuff… Sometimes I even like metal. 🙂
2. What are you currently listening to? Name at least 5 songs.
Oki, the last five songs I listened to:
3. What is your favorite song of all times?
That would be Schrei nach Liebe by die ärzte. Its a great song against Nazis.
4. Who is your favorite artist?
I was just thinking about this for a while and I just figured that I don't really have one. I almost exclusivly listen to music by bands and the few solos artists I have in my playlist are not even near on being a favourite.

5. What is your favorite band?
Ok I could never ever decide! Why decide on just one band, when you can listen to them all?? Well, but If I had to narrow it down to 3 bands it would be: die ärzte, El Cuarteto de Nos, AnnenMayKantereit (click on the names and get redirected to youtube! Listen to a great song :D)
6. Do you still own CDs? What was the last CD you bought?
I think I got some lying around somewhere, but frankly I really don't use them anymore. I got all my music on my computer and on vinyl and I really can not recall the last CD I bought. No idea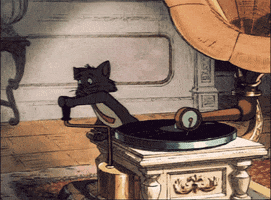 7. Have you ever been to a concert? If so, which one was your best concert and which one your latest?
Sure I have! Concerts  are awesome! The last one I went to was Ska-P, a spaish Ska band which is just gorgeous!
8. Have you ever been to a music festival?
Sadly – no. But I got it on my list! There are some really cool festivals in Europe going on!
9. Do you play any instrument and if yes, which one?
I would love to be able to play the guitar, sadly I never got to learn it. In school I had to learn the recorder, but I think I forgot it all.
10. Are you currently or have you ever been part of a band?
11. How important is music to you?
Do you think a movie could be great without music? Nooo. Never. Noone would wanna see a movie without music! Music is always essential! I need music to think, I need music when I drive, when I walk, I listen to music right before I fall asleep. My life has a great soundtrack and it would suck really bad without it. Music is awesome. Period.